Bitter Melon (Caraille) and Sada Roti
Day two- I've decided to go straight from sweet to bitter..vegetable, that is. Bitter melon, bitter gourd, caraille, karella. If you've never seen it raw, it is a long, oblong, narrow pale green fruit with distinctively bumpy skin. It is normally cooked and eaten in a variety of ways- stuffed with meat or vegetables and baked or deep fried, in soups, etc. Bitter melon is reported to be rich in iron, beta carotene, potassium, vitamins A, C, B1, B3, and is a good source of fibre. The fruit is normally eaten green, and the seeds inside are scooped out leaving the bumpy flesh. If not properly prepared, the bitterness makes eating caraille seem like cruel and unusual punishment. Definitely an acquired taste! Fortunately my husband liked this dish more than my beetroot soup:)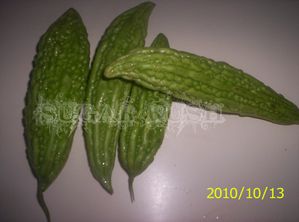 I prepared the bitter melons as part of a simple dinner- first cut in half lengthways, then thinly sliced and salted. This draws moisture and a lot of the bitter taste from the caraille. I then squeezed out most of the liquid and sauteed with diced onions, garlic, pimiento, scotch bonnet, and a pinch of cumin until fairly crisp. I served this with hot sada roti slathered with butter.
Fried Bitter Melon
1 lb whole bitter melons, washed
salt
1 medium onion, diced
3 cloves garlic, peeled and diced
2-3 pimentoes, diced
1/2 scotch bonnet pepper, diced.
1/4 tsp ground cumin
2 tbsp vegetable oil
Cut ends of caraille and slice through lengthways.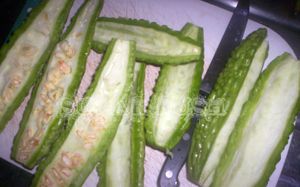 Scoop out seeds using a spoon, discard seeds.
Thinly slice flesh.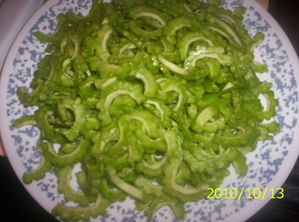 Salt well- I used 2 tbsp regular salt.
Let sit for at least 20 minutes.
Place sliced, salted caraille in a clean kitchen towel and twist firmly to squeeze out moisture.
When no more liquid can be squeezed out, spread on a large flat dish or tray to "dry" for a further 15-20 minutes.
Place a large saute pan over medium heat, add 2 tbsp oil.

Add onions, garlic, pimiento, cumin and scotch bonnet pepper and fry gently until onions are transluscent.

Add caraille and mix well with other ingredients.

Cook uncovered, stirring occasionally until caraille is no longer bright green and looks dry, about 20 minutes.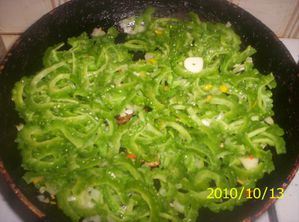 You shouldn't need to add any more salt.

Serve hot , preferably with sada but warmed pita or flatbread can work too!