If you aren't familiar with the remarkable breadfruit you're probably wondering what it is-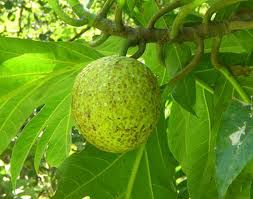 The breadfruit was introduced to the Caribbean by Captain Bligh in the 1700's. There are three varieties of breadfruit- the yellow, the white, and the prickly variety(chataigne). Breadfruits can be eaten at every stage of development. If you have never eaten breadfruit, you will not be disappointed the first time you try it- it has a very mild, bland flavour much like a potato and you can substitute breadfruit for potato in soups, pies and even chips. Breadfruit oil down is yellow or white breadfruit that is simmered with salted meat in a seasoned coconut milk until the breadfruit is tender. Excellent on its own or with a side of grilled fish, breadfruit is definitely one of my comfort foods!
Easy Breadfruit Oil Down
2 medium half-ripe breadfruits, peeled, cored and cut into wedges
1/2 lb salted meat (salt beef, salt pork, or pigtails)
water
1 med onion
4 cloves garlic
1 bunch chives, washed
1 bunch celery, washed
3-4 leaves cilantro, washed
2 pimientos
10-12 ochroes, washed and cut into 1/2 inch pieces
2 cups coconut milk (fresh or powdered)
1 hot pepper(optional)
vegetable oil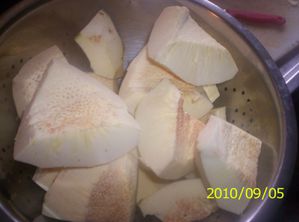 Place a large iron pot on the stove to preheat.
Place onion, garlic, chives, pimento, celery and cilantro in a food processor or blender with a little water and blend until finely chopped. Set aside.
Put salted meat in a small saucepan with water(just enough to barely cover meat) and bring to a boil. Continue boiling for 8-10 minutes to reduce the saltiness of the meat. Drain and set aside.

In the iron pot, put about 2 tbsp vegetable oil. When oil is hot, add 3 heaping teaspoons of the chopped seasonings and cook for 2 minutes, stirring constantly. Add the drained salted meat and fry for another 1-2 minutes.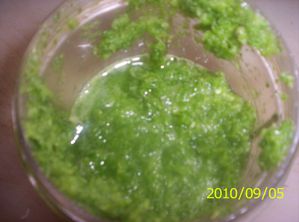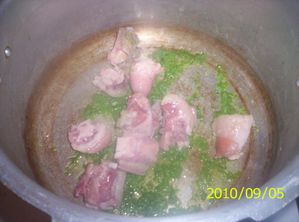 Add breadfruit and ochroes to pot, stirring well.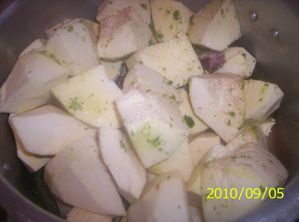 Add coconut milk. There should be enough liquid to barely cover the breadfruit. If not, you can add hot water. Add washed whole hot pepper and 2 more tsp green seasoning.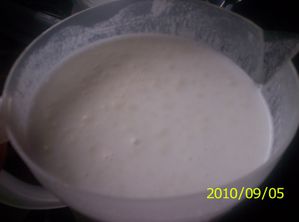 Bring all to a boil. Reduce heat to medium, cover pot and simmer gently until breadfruit is fork tender. Stir occasionally, taking care not to burst the hot pepper.
Remove hot pepper, taste and adjust seasonings as necessary and serve alone or as a side dish.