Cardamom-Cinammon Pumpkin Cupcakes- Sunday Sweets
I was thinking this morning about transformation and cooking. Such a humble, commonplace term for such a magical process! Okay, maybe not so much magick as much as alchemy- the changing of base materials into gold. I am fascinated by the way that many humble ingredients can be transformed into culinary gold in so many different ways ! My very first Sunday Sweet is a perfect example.. a humble piece of pumpkin turns into light, moist pumpkin cupcakes, spiced with cinammon and ginger, and topped with a cardamom frosting.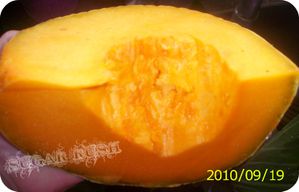 A sweet old man sold me this pumpkin at my local market on Sunday morning. I peeled and cut up the rest and put it in the freezer for another meal or two but I wanted to use up at least some on the same day since it was so fresh and beautiful!
Cardamom-Cinammon Pumpkin Cupcakes
Makes 12 regular sized cupcakes or 30 mini cupcakes
1 3/4 cups all purpose flour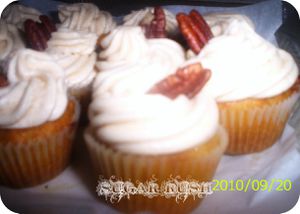 1/2 tsp baking powder
1/2 tsp baking soda
1/4 tsp salt
1/2 tsp cinammon
1/4 tsp ground ginger
1/4 tsp ground cardamom
2 large eggs
1 cup white granulated sugar
1/2 cup melted unsalted butter, cooled
1 cup pumpkin puree (fresh or canned)
1/4 cup water
1/2 tsp good vanilla extract
Preheat oven to 350 degrees.

Place paper cupcake liners in cupcake tins, or spray tins with non-stick cooking spray.

Sift all dry ingredients into a large bowl.

Whisk eggs lightly, add sugar and melted butter, stirring to combine.

Mix in pumpkin, water and vanilla.

Add flour mixture to pumpkin mixture in 2 parts, stirring gently to combine.

Mix only until ingredients are just combined, don't overmix.

Pour into paper-lined cupcake pans.

Bake at 350 degrees for 18-23 minutes, or until a toothpick inserted into the center of a cupcake comes out clean.

Cool completely then frost with cardamom buttercream frosting.
Cardamom Buttercream Frosting
1/2 cup unsalted butter, room temperature
2 cups icing sugar, sifted
1 tsp ground cardamom
1/4 tsp cinammon
evaporated milk
With a mixer on low speed beat softened butter, gradually adding icing sugar.

When all the sugar has been added, increase mixer speed to high and beat until light and fluffy (about 1 minute).

Add about 2 tbsp milk and spices to butter and icing sugar and continue whipping. You may need to add more milk if mixture is too thick and heavy.