Curried Crab and Dumplings- Beat the Monday Blues
As a working wife and mother, Monday is the hardest day of the week for me. The easy relaxation of the weekend is over, not to be seen again for another five days- *Sigh*. Monday means cooking breakfast faster than a speeding bullet, throwing things into a lunchbox, scrambling to get dressed for work. I always tell myself - if I can make it through Monday, the rest of the week is a piece of cake:)
I am posting this recipe Curried Crabs and Dumplings to beat my Monday blues and remind myself of the wonderful Sunday I had, and that another one is only days away. Mangrove crabs cleaned and cooked in a spicy green coconut curry sauce and served with fluffy dumplings that soak up all the tasty goodness - literally sensory overload as that first bite touches your tongue.
This dish calls for fresh crabs in the shell, but you can use canned or frozen crabmeat. I actually used both to intensify the crab flavour.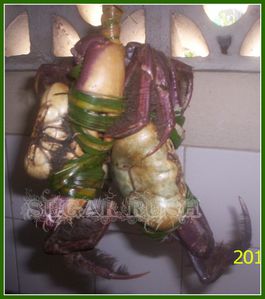 Curried Crabs and Dumplings
6-8 large crabs (blue or red mangrove crabs), cleaned, washed and split in half
1 lime
1 bunch chives, washed and roughly chopped
1 bunch (about 8 leaves) cilantro, washed
1 onion, peeled and roughly chopped
6 cloves garlic, peeled
3 pimento peppers, washed and cut in half
1 scotch bonnet pepper, washed and left whole
4 tbsp curry powder, plus 2 tsp for seasoning crabs
2 packs powdered unsweetened coconut milk
2 cups hot water
1-2 tsp salt
1 tbsp vegetable oil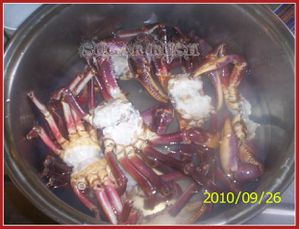 Prepare seasonings-

in a food processor or blender, put chives, cilantro, onion, garlic and pimento.

Add enough water so that mixture blends smoothly, about 2 tbsp.

Blend/chop until mixture is fairly smooth. Set aside.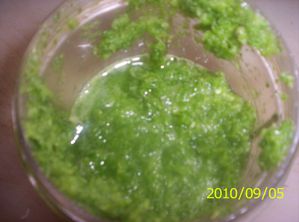 Squeeze lime over crabs and mix well.

Season crabs using 4-5 tbsp of the blended seasoning mixture.

Sprinkle 2 tsp curry powder over crabs, and mix well.

Let marinate in the fridge for at least 15 minutes.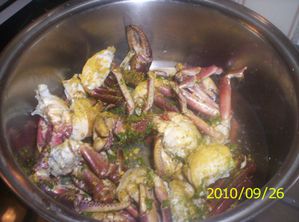 Prepare the coconut milk by adding both packs to 2 cups very hot water and whisking until smooth.

Place a large, heavy pot on medium/high heat, add oil.

Mix 4 tbsp curry powder with 2 tbsp hot water, stir well to dissolve.

When oil is almost smoking hot, carefully add water and curry mixture. Be careful!

Fry this mixture for 2 minutes, stirring frequently. Some of the liquid evaporates, leaving a very thick paste.

Add 2 tbsp green seasonings and saute for another 30 seconds.

Add seasoned crab and stir quickly and thoroughly to coat all the crab pieces with curry mixture.

Reduce heat to low and cook crabs for another minute.

Add coconut milk, salt and whole scotch bonnet pepper. Stir.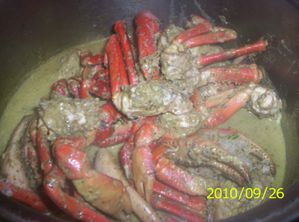 Cover pot and simmer gently for 10 minutes.

Remove cover and add seasoned crabmeat (season the same way as fresh crabs) if using.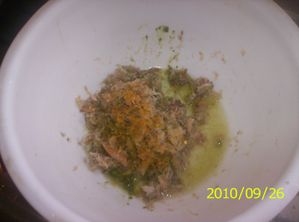 Stir well and leave pot uncovered so that liquid can reduce slightly(about 5 minutes. This dish needs a fair amount of sauce for the dumplings!

Remove from heat and take out scotch bonnet pepper.

Serve hot over dumplings, giving each person some whole crab and lots of sauce.

Enjoy!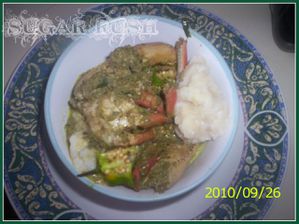 Note- This dish is meant to be eaten both with a spoon and your hands to pick up that delicious crab! Offer plenty of napkins too:)