Double Chocolate Cupcakes- A Sunday Sweet
Another weekend has literally flown by. I've flown through another year of my life and had my birthday celebration this weekend. I've reflected on the last 365 days of my life and thought about what I've done and where I'm heading- re charting my course, so to speak. I'm happy to say that I'm exactly where I need to be, doing what I love and I want more of the same! Thanks to all my readers who encourage me to keep blogging and creating kitchen magic, because we all need some magic in our lives:) I know I do, so I am sharing a Double Chocolate Cupcake recipe today. Picture moist chocolate cake, studded with chocolate chips, and topped with a delicate mint frosting.
Double Chocolate Cupcakes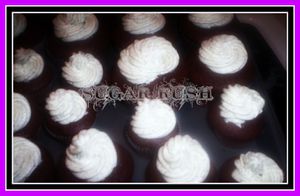 2 cups all purpose flour
1 1/2 tsp baking soda
1/2 cup unsalted butter, softened
2 cups sugar
1 1/2 cups evaporated milk
2 tsp vanilla extract
2 large eggs
2/3 cup semi-sweet chocolate chips
Preheat oven to 350 degrees

Mix dry ingredients together in a large bowl using a whisk.

In a medium bowl, cream butter and sugar until light and fluffy.

Add milk, eggs and vanilla to butter mixture and mix well.

Add butter mixture to dry ingredients, mix well

Stir the chocolate chips into the batter- don't overmix.

Place cupcake liners into 2 cupcake pans and spoon batter into liners- 2/3 full.

Bake cupcakes for 16-20 minutes, until tops spring back when pressed.

Cool in pans for 10 minutes, remove from pans to cool completely.

Frost with desired frosting.
Mint Frosting
3 cups icing sugar
3- 5 tbsp milk
2 tbsp softened butter
1/2 tsp peppermint extract
1-2 drops green food coloring(optional)
Sift icing sugar.

Using a mixer or a whisk, cream the butter and sugar until smooth.

Add milk- you can add more to achieve desired consistency.

Add peppermint extract and green food coloring if using, mix well.

Frost cupcakes.