Easy Crabmeat and Fish Pie
Have you ever seen a recipe that looked so mouthwatering, so delicious that you can taste the food while reading the recipe? That happens quite often to me since reading a cookbook combines three things that I am passionate about- reading, cooking, and yes. eating. I was reading a cookbook the other night and I saw a fish pie recipe. It looked tasty enough but I got to thinking- how can I make this better? I had some frozen uncooked crabmeat, so my Crabmeat and Fish Pie was born. It is a crabby, cheesy pie, made extra good with the addition of poached whitefish filets and the delicious poaching liquid. I served it as part of a simple dinner with a green salad and crusty garlic bread.
Crabmeat and Fish Pie
500 grams raw crabmeat
4 whitefish filets
juice of 1 lime
salt
black pepper
3 cloves garlic, mashed to a paste
1 small onion, finely chopped
2 tsp finely chopped parsley.
1/3 cup very hot water
1/4 cup dry white wine
1/2 tsp cayenne pepper
4 tbsp butter, plus 1 tbsp
1 can cream of mushroom soup
1/2 cup plus 1/4 cup grated sharp cheese.
1 cup unseasoned breadcrumbs
Prepare the crabmeat by squeezing half the lime juice over.

Add salt and black pepper, about 1/4 tsp of each. Mix well and cover.

Let marinate for 10 minutes in refrigerator.

Prepare fish filets in the same way in a separate bowl. Add 1 tsp chopped parsley.

Over medium heat, melt 2 tbsp butter. Add half the onion and cook until transluscent.

Add half the garlic and continue cooking for 30 seconds more.

Add the crabmeat and saute until cooked, about 7-8 minutes.

Remove from heat and set aside in a large bowl.

In a large saucepan with a cover, melt 2 tbsp butter over medium/low heat.

Add the rest of the onion and cook until transluscent, then add the garlic.

Saute gently for 30 seconds.

Gently add the fish filets.

Add the hot water and white wine. Add another tbsp butter and 1 tsp salt.

Bring to a boil, then cover the saucepan and remove from heat.

Leave covered for up to 10 minutes until filets are cooked.

Transfer fish from cooking liquid onto a plate and cool slightly.

Gently flake fish using a fork into the large bowl with the crab.

Place saucepan with fish cooking liquid over high heat and reduce this by 2/3.

Make the cheese sauce- in a medium saucepan over low heat add the undiluted cream of mushroom soup.

Add the reduced fish liquid, whisk well to combine and bring to a boil.

Add 1/2 cup cheese and cayenne pepper and mix well until smooth.

If liquid is too thick add some milk or cream to dilute slightly.

Remove from heat.

In a large bowl add the cooked crabmeat, flaked fish, breadcrumbs and cheese sauce. Gently fold all ingredients together until combined.

Grease a 8x8 baking dish.

Put combined mixture into dish, dot some extra butter over top.

Sprinkle 1/4 cheese over top and bake at 350 degrees for about 15 minutes or until cheese is bubbly and golden.

Serve and enjoy!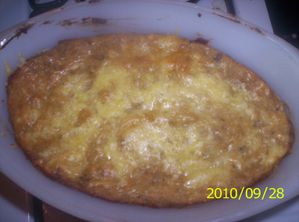 The last word- This dish is a *mite* labour intensive but the result is definitely worth it!