My Easy Sugar Cookie Recipe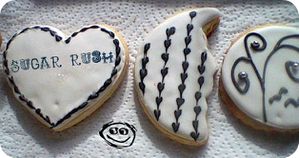 September is here!!! I love September because it's my birthday month(yay) and because Halloween and Christmas are right around the corner. I am pretty busy from now til December making these easy sugar cookies for folks who need a SUGAR RUSH. These sugar cookies are buttery, crunchy yet chewy, and pretty to look at. More fun to eat though!

This is a good kid friendly recipe too. My daughter and niece love to help me make these cookies. Their favorite part of the recipe is the taste testing part!!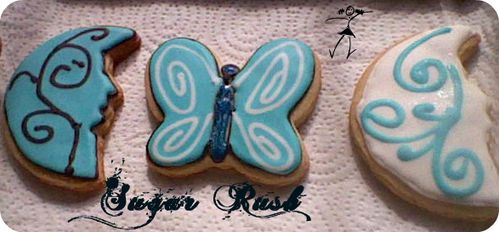 Easy Sugar Cookie Recipe
Makes 2 dozen Sugar Cookies
3 cups all purpose flour
1 1/2 tsp baking powder
1 cup unsalted butter, room temp
1 cup white sugar
1 egg
1 tsp good vanilla extract(you can use almond extract as well)
1/2 tsp salt
1 tsp grated citrus peel (optional)
Sift together dry ingredients: flour, baking powder, salt

Cream butter and sugar until light and fluffy.

Add egg and vanilla, mix well. Add citrus peel if using. Don't overmix else you'll end up with one tough cookie!

Add dry ingredients in 3 parts, mixing well after each addition and until all the flour is completely incorporated and the dough comes together.

Wrap dough well in plastic wrap and chill for 2 hours. You can freeze the dough at this point and thaw when ready to bake. It keeps well in your freezer up to one month.

Remove dough from refrigerator. Roll dough to 1/4 inch thick between 2 pieces of parchment paper. This makes cleaning your countertop a breeze after.

Cut into desired shapes using cookie cutters.

Place on an ungreased cookie sheet and bake at 350 degrees for 8-10 minutes or until sugar cookies are lightly brown around the edges.

Cool completely, and frost or ice with desired icing. (I use Royal icing)