Eggplant (Melongene) Choka
Eggplant. Aubergine. Melongene. Baigan. Whatever you call it, this is one versatile vegetable beloved by cultures all around the world. A few interesting facts about the eggplant:
Eggplant is a member of the Nightshade family of plants.

It's a close relative of potato, tomato, and tobacco.

The (eggplant) fruit is classified botanically as a berry.
I can rarely resist buying sometimes up to 5 pounds of eggplant at my local market- I love the somewhat spongy, meaty flesh but I am totally captivated by the beautiful glossy purple-black skins. This has pushed me to find lots of ways to cook eggplant, since my family doesn't share my love affair with the incredible baigan. This recipe is a staple in my country- the eggplants are washed, stuffed with garlic cloves and roasted on the stovetop until tender. The flesh is scooped out and mixed with oil, seasonings, onion and garlic. Properly prepared, the melongene develops a smoky,creamy taste that truly makes your tastebuds jump up and say "HELLO!"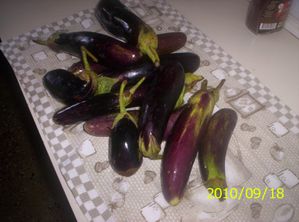 Roasted Eggplant(Baigan) Choka
2 lbs eggplants, washed
1 medium onion, finely chopped
6 cloves garlic, peeled
2 tbsp vegetable oil
salt
1 scotch bonnet pepper (optional)
Peel 3 cloves garlic and cut into fairly thick matchsticks.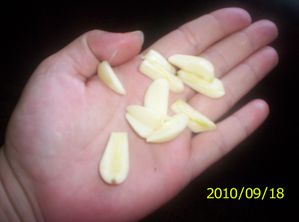 Take each eggplant and using a sharp knife, cut a small deep "X" into the flesh. Turn and repeat this around the body of the eggplant 2-3 times.

Take a garlic "stick" and push firmly into the cut that you've made in the eggplant. Use your finger to widen the cut if necessary so that the garlic isn't sticking out. Repeat until all the garlic is used in all the eggplants.

Roast each melongene on your stovetop.- I place 2 eggplants per burner (on high heat).

Using tongs, turn eggplants frequently so that they cook evenly. The skin will look charred and black, and the eggplant will become very soft when they are cooked.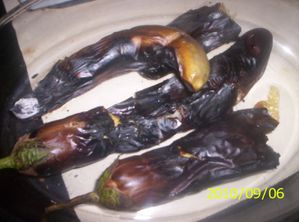 (You can also cook these on a bbq pit- medium-high heat, turning frequently. This saves you having to clean your stovetop, as this can get messy)
When all eggplants are cooked, remove from heat and cool slightly.

Using a sharp knife, cut lengthways down the middle of the eggplant.

Open to expose the flesh and using a spoon, scrape flesh out into a bowl. It's okay if a little of the charred skin gets in.

Using a potato masher or a spoon, mash eggplant to a smooth paste.

Put oil in a small frying pan with the chopped onions. Place on low-medium heat.

Thinly slice 3 remaining cloves of garlic. If using hot pepper, cut in half, remove seeds and finely chop.

When onions start to sizzle, add sliced garlic.

Cook until garlic is golden brown and slightly crisp. Add hot pepper, fry for 30 seconds.

Remove from heat and immediately pour oil, onions, garlic and pepper over eggplant.

Mix well. Add salt to taste.

Serve warm or cool with warmed pita bread, flatbread, or sada roti.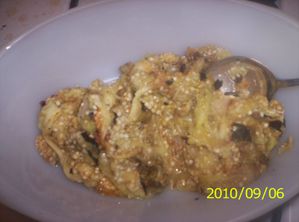 A "choka" is a local term for any vegetable side dish that has been prepared by roasting and mashing with oil, onions and garlic.