Faux Jamaican Beef Patties- A Thursday Cheat
Have you ever had the pleasure of eating a hot- from-the-oven Jamaican Patty? I mean no disrespect when I say that is one of the closest things to sensory nirvana that you can experience. Imagine- a sunny yellow shell, enclosing juicy beef rich in indian spices and Caribbean heat and flavour. Definitely a match made in heaven. What? Sounds like a beef pie, you say? Well, you're partially right. No regular beef pie I have ever tasted can come close to a Jamaican Patty. Newsflash- you can have them in chicken or vegetarian (using minced soya) too. This is one thing that everyone in my family adores, so of course I had to try to make my version. This recipe is adapted from a great site called http://healthyjamaicanfood.com/. I substituted turmeric powder for curry powder in the dough, and I "cheated" by adding some store-bought jerk seasoning to the meat. Feel free to check it out!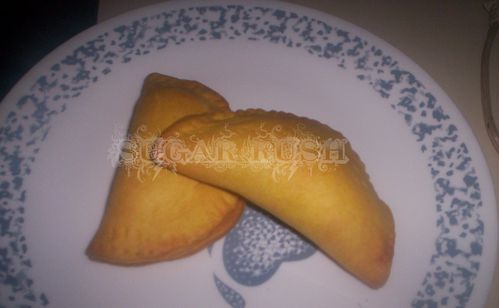 Faux Jamaican Beef Patties
3 cups all purpose flour
1/2 tsp salt
3/4 tbsp ground turmeric
1/4 cup cold shortening
1/4 cup cold margerine
3/4 cup ice cold water
Sift the flour, turmeric and salt into a large bowl.

Cut in the shortening and margarine until butter is the size of small peas.

Add the cold water a little at a time to make a stiff dough.

Lightly flour a wooden cutting board or your countertop and roll out the dough until about 1/8-inch thick.

Cut out 8-inch circles. Cover with a damp cloth until ready to use.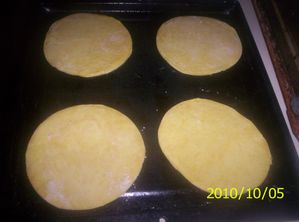 Now for the meat-
2 tbsp oil
1 small white onion, diced
1/4 teaspoon Scotch Bonnet pepper, diced
1/2 lb. lean ground beef
1/2 teaspoon salt
1/2 teaspoon freshly ground black pepper
1/2 teaspoon curry powder (I used mild but you can use hot to turn up the temperature)
1/2 teaspoon thyme, dried or fresh
1/4 cup breadcrumbs
1/4 cup beef or chicken stock
1/2 tsp mild or hot jerk seasoning
1 egg, beaten
1/4 cup water

In a heavy skillet with a cover,heat the oil and sauté the onion and Scotch Bonnet Pepper until transluscent.

Add the ground beef, salt, pepper, curry powder, jerk seasoning and thyme and mix well.Cook the meat for about 10 minutes, stirring occasionally.

Add the breadcrumbs and stock and combine all the ingredients well. Cover the skillet and simmer for about 10 to 15 minutes, stirring occasionally. When all the liquids have been absorbed, the filling is ready. It should be moist but not watery.
Remove the skillet from the stove and preheat oven to 400 degrees F.

Uncover the dough circles and place 2 to 3 tablespoons of filling on half of each. Moisten the edges of the dough with water and fold the dough circle over the meat filling. Pinch the edges closed with a fork.
Lightly brush the pastry with a mixture of the egg and water. Bake on a lightly greased baking sheet for 30 to 40 minutes or until the patties are golden brown.
Serve hot and imagine yourself somewhere tropical, like me!