Last Friday, I decided to make something a little different for dinner. I was craving a milkshake, so I built my dinner menu around that:) I didn't really want to buy fast food, so I decided to try making my very own fried chicken. I was reading a gorgeous Persian cookbook and I wanted to use some of the flavours that I read about. Here's what I came up with: I bought a large pack of chicken legs and a pack of (bone in) chicken breast. I took the skin off the breasts but left the skin on the legs. I seasoned these generously. You can of course use any part of the chicken you like, even a whole one cut into parts. I marinated all in a very tandoori like mixture of plain yogurt which I also seasoned. I dredged all the pieces in plain flour and fried. I think skipping the flour and grilling would be delicious as well. Have you ever created your own faux fast food? I'd love to hear about it! I served my fried chicken with mashed potatoes, corn and strawberry milkshakes. YUM!!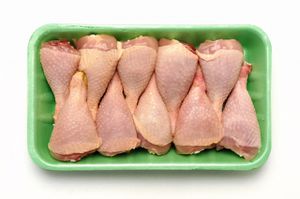 Fried Chicken
8 drumsticks
4 breasts bone in, split in half
juice of 1 large lime
8 oz plain yogurt (don't use low fat, it will be too runny)
2 tsp salt
2 tsp cracked black pepper
1 tsp ground cumin
1 tsp chili powder
1/2 tsp red pepper flakes
2 cloves garlic, ground to a paste
1 healthy bunch fresh chives, chopped
1 bunch parsley, chopped
1-2 sprigs fresh thyme, leaves stripped off the stalk
Roughly 2 cups flour
Vegetable oil for frying
Place the chicken in a large bowl, pour lime juice over, rub thoroughly with salt, black pepper and garlic.

Add yogurt which should cover the chicken.

To this add cumin, chili, red pepper, chives, parsley and thyme.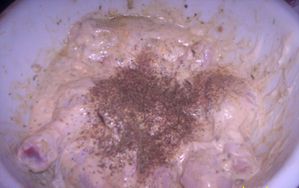 Mix everything well and allow to marinate in the fridge for at least 30 minutes or up to 8 hours.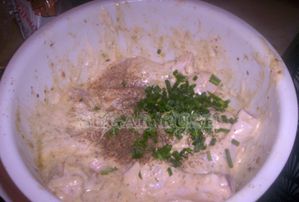 Your mixture should look something like this.
Put enough oil to deep fry the chicken in a deep fryer or a large, deep skillet and heat over medium high heat until a wooden toothpick bubbles when placed in oil.

Put the flour (you can season slightly with salt and pepper) in a large brown paper bag. I recycle clean grocery bags for this. Put 2-3 pieces of coated chicken into bag and vigourously shake to coat while holding the top of the bag closed.

Carefully add the coated pieces to the hot oil and fry until cooked through.

Drain cooked pieces on paper towels.

Repeat until all the pieces are coated and fried.

You need to watch the heat like a hawk- too hot and the chicken will be burnt on the outside and raw on the inside, and not hot enough will make it a really greasy, not crispy chicken.

These pieces took approximately 9-12 minutes to cook through.

This recipe makes enough for 4 people with leftovers for the next day.