Frozen Watermelon and Lime Slush- A Sunday Sweet
The temperature has been soaring these past few days and the heat is unbearable. I literally want to canonize the inventor of air-conditioning since anyone who knows me knows that I cannot stand the heat. Never could. It's as if I was born with a defective internal thermostat. When my hubby is freezing, I feel comfortable. To deal with the heat and to rehydrate, I saw a delicious watermelon and lime drink on one of my favorite sites "Rock Recipes' and I adapted it to suit the broiling temperatures here. It's icy, sweet, healthy, and so easy to make, perfect for adults and kids to keep cool.
Watermelon Lime Slush
3 cups watermelon(or any melon you like), cut into 2" cubes and frozen overnight
1 1/2 cups already prepared cold limeade
2-3 mint leaves (optional)
ice, if needed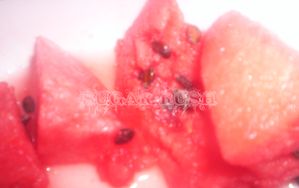 Put frozen watermelon into blender.

Add limeade and mint leaves.

Blend until slushy.

Add ice if desired and blend again.

Serve in glasses rimmed in lime and sugar, and float a sugared lime slice on top.

Enjoy!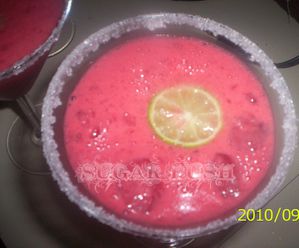 Final word- I didn't bother to remove the seeds from my watermelon since they sink to the bottom of the blender after blending. You can also mix in light or dark rum for an adult treat. My mom loved it!