My Incredible Egg Special Sandwich
WE've all heard it- breakfast is the most important meal of the day. With all the rushing around in the morning, I needed something quick, easy and portable for busy school mornings (besides cereal). I think every family has their own version of this- a dish that somehow became the "go to recipe" for breakfast. In my house it's the Egg Special Sandwich- very easy, very quick, very delicious and satisfying. Necessity really is the mother of invention since I came up with this breakfast when I had nothing in the fridge except eggs, butter, jam, and pepperoni and two hungry tweens, my hubby and my father in law to feed. Even better, you can cook each person's egg eggs- actly as they like it! (Sorry, I just couldn't resist the pun:)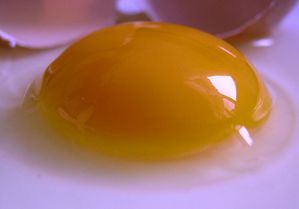 Incredible Egg Special Sandwich
Serves 4
4 eggs
salt
black pepper
4 sesame seed buns, split and lightly toasted
16 pieces pepperoni (or bacon, salami, whatever you have)
butter
jam or preserves of your choice (I use strawberry or guava)
Place a small frying pan over medium heat, spray with non-stick cooking spray

Fry pepperoni until edges curl slightly. Remove from pan and keep warm.

Spray frying pan again with cooking spray, add 1 tsp butter.

Cook eggs, one at a time sunny side up OR over easy. Sprinkle yolks with salt and black pepper.

To assemble- generously spread butter and jam on buns, place 4 pieces pepperoni on bottom half of bun then top with fried egg.

Serve hot and enjoy!
Does your family have a go-to quick breakfast recipe? I'd love to hear about it!