My Ultimate Chocolate Chip Cookie
Chocolate chips. Dark chocolate chunks. Roasted pecans. What's not to love about this cookie? I know my last post was a cookie recipe as well but I've been on a cookie-ing spree this week. School reopens next Monday so I am making a bunch of different cookies to freeze for lunchkit snacks for my daughter. She is always a little depressed the first week of school. So am I...oh well. Enough about THAT.
My Ultimate Chocolate Chip Cookie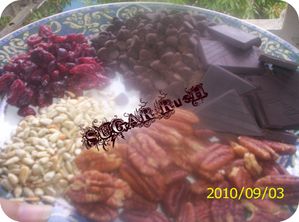 You need:
1 cup butter, room temperature
1 cup white sugar
1 cup brown sugar
1 tsp vanilla extract
2 eggs
2 cups all purpose flour
1 tsp baking powder
1 tsp baking soda
1/2 tsp salt
1 1/2 cups toasted chopped pecans (feel free to use whatever kind of nuts you prefer)
2 cups semi sweet chocolate chips
50 grams dark bittersweet chocolate, grated or chopped into chunks
2 cups blended oatmeal
1 cup chopped dried cranberries, optional
Sift flour, salt, baking powder and baking soda. Mix in oatmeal to this using a whisk.

Cream butter and both sugars until light and fluffy. Add eggs and vanilla, mix well.

Add flour mixture, nuts, chocolate chips and chunks, cranberries and mix until blended.

Chill dough in freezer for about 10 minutes. Remove from freezer and scoop out 2 inch balls. Place on a baking sheet covered with parchment paper. Place balls 2 inches apart. Flatten balls into a disk.

Bake at 375 degrees for 12-14 minutes or until edges are slightly browned.

Cool and serve.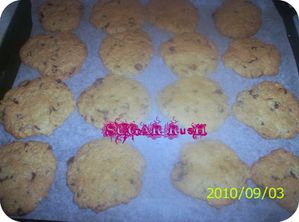 Note: you can freeze this dough uncooked in the freezer for up to 1 month. The baked cookies freeze well once they are tightly covered.