Quick Oven Roasted Vegetables
I've been away too long, I know. I've been battling a cold for the past week and it really was an even fight. Thankfully I feel much better now so here I am again, sharing my veggie adventures with you. I was inspired for these easy oven roasted veggies by oven fries which I really enjoy, so instead of the traditional wedges, I used a beautiful white sweet potato and a butternut squash. I cut them into 1 inch cubes, drizzled generously with olive oil, and sprinkled all with salt and cracked black pepper. As these both have a fairly high sugar content, the caramelization gave a nice crunch, while the center was tender and perfectly cooked. I served the veggies along with a simple roasted beet salad, and grilled salmon filets. I'm quite sure that any firm tuber or root vegetable would work beautifully here- turnip, dasheen, breadfruit, try whatever you have in the kitchen...then let me know how it turned out!
Quick Oven Roasted Vegetables
1 large white sweet potato, peeled and cut into 1 inch cubes
1 butternut squash, peeled and cut into 1 inch cubes
2 tbsp olive oil
1 tsp sea salt
1 tsp cracked black pepper
Preheat oven to 350 degrees

Spray a large baking tray with non stick cooking spray

Place vegetables on baking tray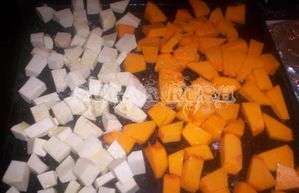 Drizzle with olive oil, and sprinkle salt and black pepper.

Toss to coat evenly.

Roast in oven for 15-20 minutes or until veggies are tender,turning vegetables halfway through cooking time.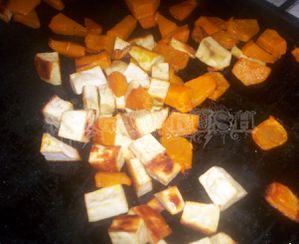 Serve hot, and congratulate yourself for not indulging in those greasy fries!