Quick Pumpkin Soup With Roasted Garlic
Today is the 24th September- a public holiday in my beautiful island, as Trinidad officially became a republic in 1976. As a young nation we have many bridges yet to cross but with the fire and passion of our citizens I am confident we will succeed! Happy Republic Day!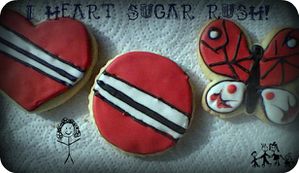 Okay- I'm stepping off my patriotic soapbox and putting on my apron:) Before I head to the good part (the recipe) I really must apologise for not posting much this week! I promise I'll make it up:) I'm making an easy tasty healthy dish today: Pumpkin Soup with Roasted Garlic with a side of Spicy Green Plantain Crisps. I usually make this dish on a rainy day to warm me up and cheer me up! I love the colour:) The pumpkin soup is pureed, so it's smooth and the roasted garlic gives a wonderful earthy flavor.
Pumpkin Soup With Roasted Garlic
Serves 4
3 cups fresh pumpkin, peeled and chopped into 1 inch cubes
2 medium potatoes, peeled and chopped into 1 inch cubes
2 cups chicken stock
1 small onion, diced
2 cloves garlic, crushed to a paste
2 tsp olive oil
1 tbsp chopped chives
1 cup water
salt
black pepper
pinch ground cumin
1/3 cup milk or cream (optional)
Roasted Garlic
1 bulb garlic
sea salt
olive oil
Put oil in a large pot over medium heat, saute onions for about 1 minute then add crushed garlic. Cook for about 30 seconds more.

Add potato and pumpkin.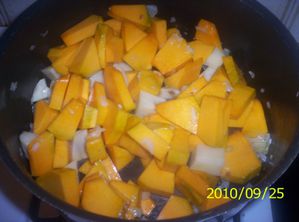 Add water and stock to pot. Liquid should cover vegetables. Add 1 tsp salt.

Bring to a boil, then reduce heat to medium-low. Cover and simmer until vegetables are tender (about 12-15 min)

Place garlic bulb in a square (8 x 8) of aluminium foil.

Drizzle garlic generously with olive oil and sprinkle with sea salt.

Close foil by gathering the 4 corners and folding together at top to make a packet.

Place on a baking tray and bake in oven preheated to 350 degrees for about 15 minutes.

When vegetables are cooked, remove from heat and carefully transfer vegetables with some of the cooking liquid to a blender.

Squeeze cooled roasted garlic into blender/food processor.

Blend mixture until very smooth.

Put blended mixture back into pot with rest of the cooking liquid and stir to combine.

Place over low heat, do not boil. Taste for salt, adding more if necessary. Add black pepper and cumin.

Stir in milk or cream if using. Immediately remove from heat.

Serve and enjoy!
The recipe for Spicy Green Plantain Crisps is coming up next, so stay tuned!