Revenge of the humans... Easy Shark and Bake recipe
HELLO everyone!! I'm a HUGE fan of Shark Week on TDC and as I looked at all those brave survivors of shark attacks, I decided to exact "revenge'"* in my own small way. I live in the Caribbean and a very popular dish is shark and bake (or bake and shark, whichever floats your boat). I don't know how many of you have ever dreamed of such a meal, much less tasted it, but trust me on this....it will most likely be THE best fish sandwich you have ever eaten. I kid you not. Still not convinced? Short description: imagine a crisp fried bread around a tasty breaded shark filet or two, all smothered in a tangy cilantro sauce...my mouth is already watering:)) Okay, enough intro- now to the meaty part (pun intended)..the recipes. This is my mother's recipe..
FRIED BAKES(bread)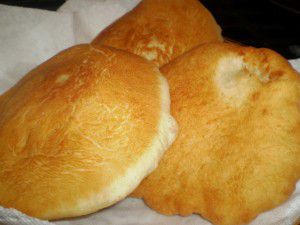 2 cups all purpose flour
2 tsp instant yeast
1/2 tsp salt
2 tsp baking powder
1 tbsp sugar
2 tbsp cold vegetable shortening
2 tbsp cold butter
3/4 cup water (may be a little more)
Enough vegetable oil for deep frying
Directions
Sift together flour, salt, sugar, baking powder. Add yeast and sugar to sifted dry ingredients and stir well to combine.

Cut cold shortening and butter into flour mixture until the butters resemble small peas.

Add water slowly while mixing well. You may need to add a bit more water to the dough if the mixture is too dry. The dough should be moist, not sticky.

Knead dough for about 2 minutes until elastic.

Place in a bowl and cover with a damp cloth and set aside for 1/2 hour for dough to rise.

When dough has risen remove from bowl and place on floured surface. Punch down. Preheat oil for frying in deep fryer or heavy frying pan.

Divide dough in half. Divide each half in half again. Continue this process until you have eight evenly sized pieces.

Roll each piece into a ball about 2-3 inches in diameter. Using a rollling pin, roll each ball into a circle 1/4 inch thickness.

Drop rolled dough into hot oil CAREFULLY, dropping away from you. Dough should "puff up" and float to the surface. Fry 3-4 minutes until lightly browned.

Drain on paper towels and keep warm until you have fried all the dough.
Now onto the shark... you will need:
1 lb shark, either filleted or cut into serving sized pieces
2 tbsp minced garlic
2 tbsp minced chives and thyme
1 tbsp lime/lemon juice, fresh or bottled
1 tsp salt
1/2 tsp black pepper
1 cup all purpose flour for dredging, seasoned with salt, black pepper, and some cayenne pepper to taste
about 1 cup vegetable oil for frying shark
Place shark pieces in a bowl and sprinkle lime/lemon juice over them. Mix well, leave for about 2-3 minutes, then rinse with fresh water. Drain washed pieces well.

Season fish well with garlic, chives, thyme, salt, and black pepper. If you like it hot(wink wink) you can add a few drops hot sauce to this as well.

Dredge fish a few pieces at a time in seasoned flour and fry in hot oil.

Cook pieces for about 5- 8 min per side, depending on thickness.

Drain thoroughly on paper towels.

Keep warm until ready to serve.
PUTTING IT ALL TOGETHER!!
Okay,so the hard part is over...time to enjoy. Split each bake and place a shark filet inside. You can use your favorite tartar sauce, garlic sauce, hot sauce or a combination of all three. A couple slices of tomato and a lettuce leaf as well usually convinces me that it is a healthy meal. It definitely is delicious!!
PS- cilantro sauce is the bomb with this as well. To make this, simply grind a bunch of cilantro with the juice of 1 lime, salt to taste and enough water to make a sauce. Stores well in the fridge.
* Hey, just kidding. I would never endorse or approve of harming any animal.