So Easy A Child Could do It! Simple Bread Recipe
I've heard people say that bread is the food of life. Wait, I got that wrong. It's actually "I am the bread of life". You Catholics out there know what I'm talking about. But I digress. Here is a bread recipe SO unbelievably EASY a child could do it. A child in fact did it- my 10 year old daughter and my 11 year old niece used this recipe and made delicious bread ALL BY THEMSELVES. I especially like that part, lol. I did take the bread out the oven though. No sense ruining a perfectly good day with a visit to the emergency room.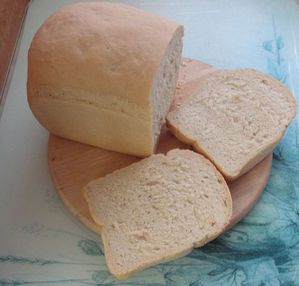 You need:
2 cups all purpose flour
1 tsp salt
1 tsp sugar
1tbsp soft butter or margarine
1 pack dry yeast
1/2 to 3/4 cup lukewarm water
Put flour in a mixing bowl. Add salt and sugar. Mix with a whisk

Add entire pack of yeast to flour mixture and mix well. Add water, and stir mixture with a wooden spoon until it thickens and forms a ball. If mixture seems dry, add the remaining 1/4 cup water a bit at a time until the dough comes away from the sides of your bowl and is moist, not sticky.

When it gets to hard to use the spoon wash your hands thoroughly and use them to knead the dough.

Sprinkle some flour on a clean, flat work surface and place the dough on it. Knead the dough until it is smooth and elastic. This takes about 5 minutes.

Lightly brush the dough with vegetable oil. Replace in bowl, cover with a clean dishcloth and put in a warm place.

When dough has doubled in size, punch down. Shape dough into a loaf. Preheat oven to 450 degrees. Place shaped dough on a lightly greased baking tray and bake for 25 minutes or until the loaf is golden brown. remove from oven and place loaf on a wire rack to cool.