Spaghetti With Invisible Pumpkin Puree and Green Peas
My daughter loves pasta. Any kind- spaghetti, linguine, penne. I came up with this recipe which gave her the pasta fix she was craving and gave me the satisfaction of having two veggies in there. The garden peas gave the pasta colour and a sweet freshness, while the pumkin was invisible. Yes, I said invisible. I had some frozen pumpkin puree and I made it into a thick sauce with some garlic, et voila! instant creamy sauce without tons of added fat and calories. Best of all- no one suspected a thing. If you have a veggie aversion in your family or of you just love a creamy pasta that's actually healthy, try this. It's very quick which is why I make it on weeknights, with leftovers for the next day.
Spaghetti With Invisible Pumpkin Puree and Green Peas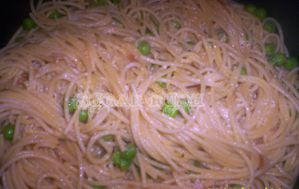 1 14 oz pack spaghetti ( you could substitute whole wheat pasta)
1 cup frozen green peas
1 cup pumpkin puree
1/2 cup chicken stock
2-3 cloves garlic, peeled and finely grated
1 tsp sea salt
1/2 tsp black pepper
1 dried bay leaf
1-2 tbsp olive oil
1 tsp butter
In a large pot, bring enough water to a rolling boil. Salt well.

Add spaghetti, cook al dente according to package directions

Add the frozen peas to the spaghetti water for the last 5 minutes of cooking.

While spaghetti is cooking, start the sauce.

In another deep saucepan, gently heat the olive oil over low heat.

Add the bay leaf.

Add the butter and garlic- you don't want the garlic to brown.

When garlic is fragrant, add the stock and pumpkin puree.

Stir to combine all ingredients, and bring to a simmer.

Add the salt and black pepper and

Let mixture reduce to a thick sauce

Drain cooked spaghetti and peas, add to the sauce (still over low heat)

Toss quicly to coat spaghetti thoroughly.

Remove from heat and serve!
Here's my dinner: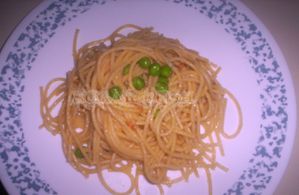 Here's my husband's: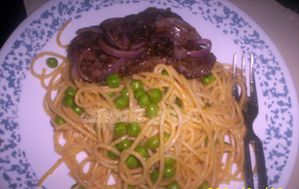 He had to get the meat in there!!!