Spicy Green Plantain Crisps
Green plantain is a very underrated fruit, in my opinion. We often tend to only use sweet overripe plantains which are delicious when fried or in sancoche. Green plantains are starchier and not sweet at all. They are perfect for crispy plantain chips, and an African dish called foo foo, which is pounded green plantains. Spicy Plantain Crisps is my version of the more traditional plantain chip. I first tasted this dish when I was a child as my mother made it as a side dish for different meals. The green plantain is partially cooked in its skin, then flattened and deep fried. Very crispy and great accompaniment to my Pumpkin Soup or on its own as a snack.
Spicy Green Plantain Crisps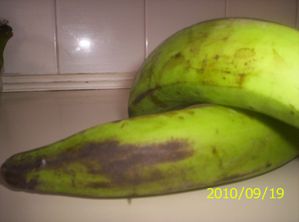 2 large green plantains
vegetable oil for frying
sea salt
pinch chile powder
pinch ground cumin
Cut ends off plantains. Cut plantains into thirds.
Put half of the plantains into a plastic bag and put in microwave.
Cook on high for about 3 minutes until plantains are fairly soft. This time may vary according to your microwave. Prepare the rest of the plantains in the same way.
Put a large frying pan or wok on stove to heat up with enough oil to cover plantains.
Leaving the cooked plantains in the plastic bag, put an oven mitt on your hand and place entire bag on a firm flat surface, such as your countertop.
Press firmly down on each piece of plantain in the bag- you want to flatten it.
Remove from plastic bag and peel away the skin. You should have a fairly flat wide piece of plantain.
Cut each into "fingers" about 1 inch wide.
Fry in hot oil until golden brown and crisp.
Drain cooked plantain on paper towels and season immediately with sea salt, chile powder and cumin.
Serve hot and enjoy!