Coconut Bake- A Guilty Pleasure
A deviation from the path of healthy eating, this recipe is one that I've always wanted to try simply because a coconut bake is so delicious when properly done. What is a "bake" you ask? Well here in TnT, "bake' is a term for any unleavened bread with fat cut into dry ingredients (kinda like making pastry). The dough can be either deep fried "Fry Bake", cooked in the oven, "Roast Bake" or cooked on a stovetop- "Pot Bake". The bake is served with whatever floats your boat, from butter and cheese to melongene choka. Coconut bake simply has fresh coconut flesh and milk incorporated into the dough. I asked my co-workers for the recipe one rainy Wednesday, and out of all the variations (everyone had a "bess" recipe) this one provided by PAM seemed like the one closest to my ideal coconut bake. I made a few adjustments and here's what I came up with.
Coconut Bake
Makes 2 8" bakes
5 cups flour
5 tsp baking powder
1 tbsp instant yeast
1 1/2 tsp salt
1 tbsp sugar
2 tbsp ice cold shortening
2 tbsp ice cold butter or margarine
1 dried coconut, cut into 2 inch pieces
2 cups tepid water
Start by preparing the coconut- put pieces in a blender, add warm water. The water should just cover the coconut.

Blend until pieces look almost finely grated and liquid in blender is white.

Set aside.

In a large bowl, put flour, baking powder, yeast, salt and sugar.

Combine thoroughly using a whisk.

Add shortening and butter to flour mixture.

Using a pastry cutter or your hands, cut or rub fat into flour until mixture is grainy and resembles small peas.

Measure 2 to 2 1/2 cups of coconut flesh AND liquid into flour mixture while stirring gently. The dough will be slightly moist not wet.

When all the dry flour has been incorporated, knead dough for about 5 minutes.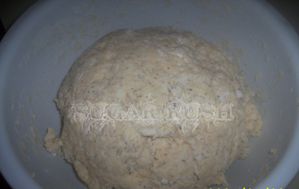 Shape into a ball, place in bowl and let rest covered with a damp cloth for 30 minutes.

Preheat oven to 350 degrees.

Flour a flat surface like your countertop and place dough.

Divide dough in half and shape each half into a ball.

Gently press each ball into an 8" round and transfer to a greased baking sheet.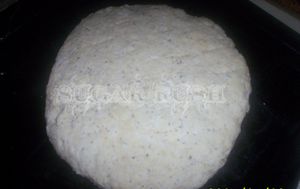 Cover with damp cloth and allow to rest for 5 minutes.

Bake for 15-20 minutes in preheated oven or until top is a light golden brown.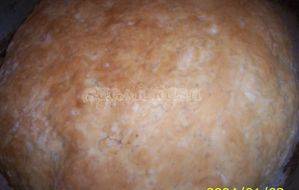 Cool slightly, cut into wegdes like a pie, and serve with whatever you like! I enjoyed my coconut bake with another traditional Trini recipe, saltfish buljol. YUM!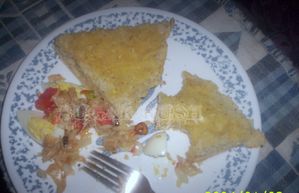 Last word- you might have noticed that I cheated- I added both yeast and baking powder to this recipe, and replaced water with the liquid from the blended coconut. The leavening makes a tender fluffy bake, and the coconut milk gives a richer flavor.