Coconut Jelly- A Sunday Sweet
Traditionally, Sunday lunch in my country is a big deal. With today's hectic schedule it is sometimes the only time when the entire family has a meal together and the atmosphere is relaxed, the adults enjoy a couple drinks before a late lunch. Today I've invited my mother and aunt over for lunch and I decided to eschew the "normal" Sunday lunch in favour of something that my mother requested- Curried Crabs and Dumplings. That's my next post:) For dessert, I made Coconut Jelly. The flesh of the dried coconut is blended with water to create coconut milk, which is strained and boiled with condensed milk, regular milk and spices. Plain gelatin is added to make it a jelly. It is a light, creamy dessert, perfect for after a large filling meal.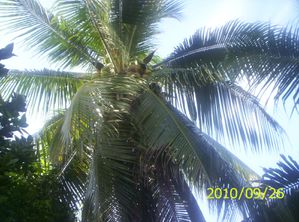 Coconut Jelly
1 dry coconut, shelled and cut into small pieces
1 1/2 cups water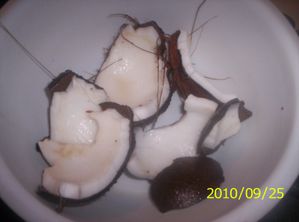 1 cup sweetened condensed milk
1 cup evaporated milk, or 1 cup low fat milk for a lighter jelly
dash Angostura bitters
1/2 tsp finely grated nutmeg
1 envelope plain gelatin
Put chopped coconut and water in blender and chop/blend until coconut is very finely chopped.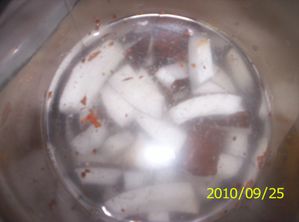 Strain coconut liquid from blender into a large saucepan. You should have about 2 cups liquid. This is the coconut milk.

Dicard the coconut flesh.

Place saucepan over medium heat and bring coconut milk to a boil.

Add condensed milk, evaporated milk, nutmeg, and bitters. Taste for sweetness. If necessary, add more condensed milk.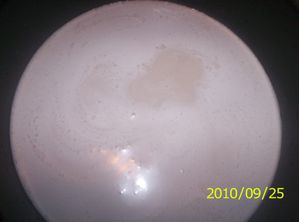 Reduce heat and simmer mixture (stirring frequently) until liquid reduces by about 1/3 and it coats the back of a wooden spoon.

Remove saucepan from heat.

Prepare gelatin by soaking for 2-3 minutes in 4 tbsp cold water.

Add gelatin to hot coconut liquid, whisking or stirring briskly to completely dissolve the gelatin.

Pour into individual serving dishes sprayed with non stick cooking spray, or one large serving bowl.

Chill for at least 4 hours. I did mine the night before.

Serve alone, or with a burnt caramel sauce which is how I served mine.

Enjoy and bask in the admiration of your guests for performing culinary magic!